ADAM NICOL
Please FOLLOW Adam on TWITTER @AdamNicol89
My latest 'RISING STAR' jockey interview sees me talk to Adam Nicol, who is enjoying a fine season, despite missing a few weeks due to injury mid-season on the Northern Jumps scene
Adam has enjoyed an excellent recent run of success with 4 of his 20 winners this season coming in the last fortnight. He has been in the frame on 6 of his last 7 rides including those 4 winners:
Cleve Cottage + Nautical Nitwit + Pekanheim + Lady Buttons
LADY BUTTONS has recently completed a fine hat-trick of wins as mentioned below…
Date and Place of Birth
Northumberland 1989
Who inspired you to get into racing and when did you first realise you wanted to be a jockey?
I used to go racing with my dad when I was a teenager. I saw the pony racing one day at Kelso and thought I want to give that a go and it went from there at the age of 15. I had already rode for a few years on ponies when I was much younger as my mother has a riding school, so knew the basics of riding which was a massive help
What age did you first ride / first actual race ride?
I was 4 or 5 years old when I first rode. 16 when I first rode in public at Alnwick point to point on a horse called SNOOTY ESKIMO which we bought from Tim Reed previously trained by Swanney Haldane. Absolute legend never fell or unseated a jockey in his career
What are your strengths and weaknesses?
Strengths … I think are that I can read a race well and get the horse into a rhythm
Weaknesses … i just think I'm improving each season and with more rides and time i'll continue to improve and become stronger and better
Who are your jockey idols you look up to or maybe based yourself on?
I don't really base myself on anyone in particular as I'm quite tall and have my own style, but I watch a lot of racing and try and pick up on how other lads are effective and look good at. One jockey I do like watching is Ruby Walsh who rides with lots of confidence and a good length of leg
What was your first winner and where and how many winners so far approx?
First winner under rules was MOUNTSKIP for Rose Dobbin in an amateur hurdle at Hexham. I've ridden 88 winners under rules.
Which would you regard as your biggest win?
ONE FOR HARRY at Wetherby was my first winner for Nicky richards and was on Channel 4
Which racecourses do you like / dislike and why?
Wetherby (above) my favourite track !
Who gives you your best advice?
Brian Harding always gives good advice
Favourite horse – that you have ridden and would like to have ridden
Fav horse LADY BUTTONS has everything you want in a racehorse trained by phil my boss. Don't really dislike anything to be fair. I would love to have ridden MASTER MINDED and ROOSTER BOOSTER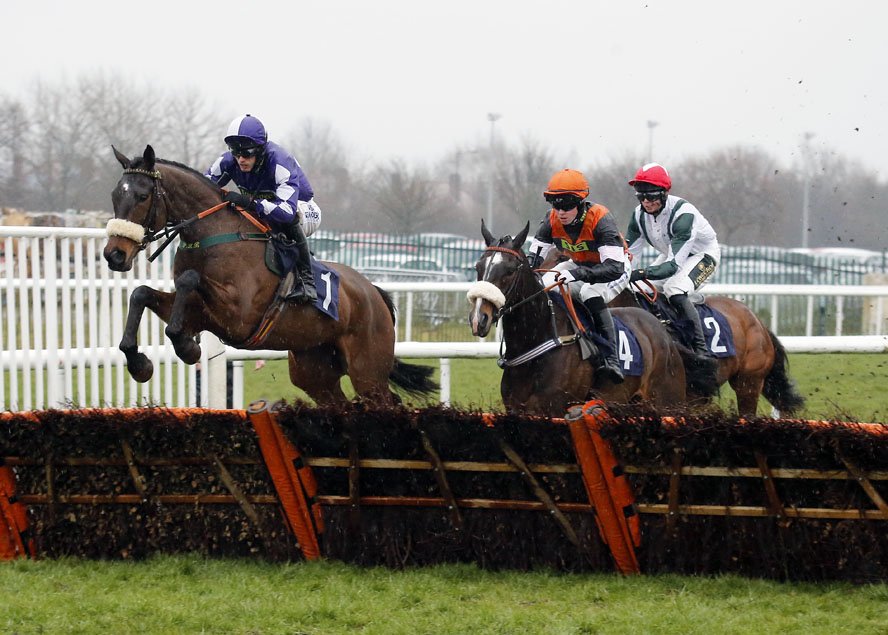 A great leap by LADY BUTTONS on Friday to land the @BetBright Mares' Handicap Hurdle at Doncaster
What is the best horse you have ever ridden?
Best horse I've sat on would be DUKE OF NAVAN (below) trained by Nicky Richards best horse I've rode on the track would be LADY BUTTONS
After losing your apprentice claim earlier this season, how do you think this may affect things for you?
I don't think losing the claim will be a problem as long as I keep doing the same work as I have been doing to get me into this position
What time do you get up in the morning most days and what would be your average kind of day?
Usually get up at 7am and ride out 4 or 5 lots each day depending when and where racing is on
Which stables do you work for or ride out at the moment?
Ride out for Phil Kirby (below) and Nicky Richards
Who are your best mates in the weighing room?
Good friends with Nathan Moscrop but good friends with most of the lads in general
What's the worst part of the job?
Worst part is the driving about everywhere
What hobbies or sports do you like to watch or play away from racing?
Hobbies are football outside of racing and follow the UFC as well
Favourite food?
Chinese
Favourite TV/Film?
TAKEN with Liam Neeson
Favourite Music?
Ed Sheeran
Which course would you like to ride a winner at this year?
Wetherby
If you were put in charge of racing for one day what changes would you make ?
Something i would change would be the amount of pay stable staff are given as i think they work very hard in all weathers all year for a poor wage
What are your ambitions for the season
To ride 30 winners this season
Can you give readers a horse to follow for the rest of the season
LADY BUTTONS Phil Kirby trains her
Finally, Adam wanted to add:
Maybe you could mention how good a support my boss Phil Kirby has been and helped me over the years
My thanks to Adam for his excellent interview and giving me his time for you !