CALLUM SHEPHERD
You can FOLLOW Callum on TWITTER @CallumSheppy
My latest series of 'RISING STAR' jockey interviews continues with me talking to Callum Shepherd, who is enjoying the final stages of his apprentice days, claiming 3lbs for Charlie Hills, having ridden 23 winners so far this season
His most recent successes have included back to back wins at tasty prices on SPOOF for his boss at Chepstow (25/1) and last week at Sandown (8/1). He has also enjoyed success riding for outside stables in August for Ed De Giles aboard CROQUEMBOUCHE and BOMBERO + winners for Mick Channon and Pam Sly
Name:
Callum Shepherd
Date of Birth:
5/8/97
Birthplace:
Brighton
How and when did you get into racing:
My parents are both lawyers by trade but fortunately some friends of ours trained point to pointers and had children my age so I got into riding with them quite young. My parents both love racing and I did a few years of pony racing. I started spending my holidays riding out and working for trainers. From about 11 or 12 it's what I wanted to do. I left school after taking my GCSEs and the rest is history.
First ride/winner:
First ride was in March 2014 on EXCLUSIVE WATERS at Southwell for Charlie Hills. He then provided me with my first winner at the same venue a fortnight later.
Best winner/satisfaction:
I've managed to win a few Class 2 handicaps, the biggest one being the Roseberry at Kempton in 2015, it was only then things got going in earnest for me, after that and so I suppose possibly the most satisfying. It was only my third winner and was just after coming back from a broken arm!
What would you be doing now if not a jockey:
I don't know if I'd have been much cop but perhaps I'd have followed my parents in to Law!!
Who do you work / ride out for:
I'm based with Charles Hills (below) and ride out there most days. I ride out for Ed De Giles every week and he's been very loyal and supportive this year.
Describe your average day:
I wake up and get in to Mr Hills for about 6:45 to pull out for 7am. I have a flat in Lambourn which is less than 5 minutes from the yard. I ride out as many lots as I can prior to going racing. If I'm in late and not too far then it'll be till about 12. Drive to the races, try to ride a winner and spend the drive home figuring out why I haven't!! I rarely do a lot when back at home, the Netflix account is usually active before calling it a day.
Heroes/idols you look up to or take advice from:
There's an awful lot of very good riders around and I'll take good advice from anyone who offers it, I think most people would say I listen well. 
Strengths/Weaknesses:
I think I'm strong and ride with some intelligence. I'm very bad at letting things go and get quite down. If I was 2nd on Monday I'd probably still be watching the replay by Friday. 
Favourite racecourse:
Goodwood, as I went to school just down the road, in my home county of Sussex. I fell in love with racing going to the Glorious Meeting with my Dad when I was small.
Best / Worse part of job:
Love riding horses, hate the driving. 
Best mates in racing/weighing room:
There's some great people in the weighing room and I get on with the majority.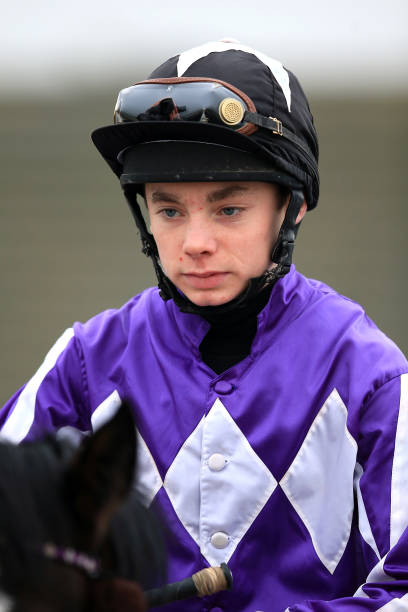 What would you change in racing if you could:
No doubt there's far more important issues that are well covered. This year as a 3lb claimed I've noticed that I'm eligible for so few apprentice races, at a tricky time in your claim this ought to be revisited. 
Food/Drink:
I'm working on a new diet at the moment but a Sunday roast is always appreciated but probably not for much longer…
Hobbies:
I like sleeping. 
Ambitions for next few months:
I'm not too far from losing my claim so I'd like to build some solid contacts for when I do. I'm riding a regular flow of winners but a nice Saturday one would be very satisfying. Mainly I'd love to bang in a few more for the boss as I'm very privileged to ride for such a stable.
How would you compare the riding on the various All weather courses in  UK:
They're all slightly different but it usually pays to be handier. Newcastle being the exception which is fairer and more galloping. Just a shame it's 5 hours away!
If you could play any other sport professionally which would you choose and why:
Footballer for the ££££££££'s
Have you ridden much abroad yet (any winners if so where) and what differences are there to riding in  UK:
I rode at Dundalk in the winter which was a good experience.
Which country would you like to ride in that you haven't you haven't yet:
Would love to ride in Australia, that would attract me the most.
Is there any race you'd like to win realistically before the end of the season that you imagine you might be riding in:
I'd love to win a decent handicap on a Saturday which is one omission from what has otherwise been a good season so far.
Finally do you have any winter plans yet at end of turf season? Going abroad or staying at home on AW ?
It's tricky as I'm close to losing my claim and I don't want to jeopardise my situation here but at some stage I'd definitely like to
Horse to follow:
My horse to follow would be NEBO, Kodiac rode him to win on debut at Newbury and he has since come 2nd in the Group 2 Superlative Stakes and again in the Richmond at Goodwood
Big thanks to Callum for his time on the interview which i hope you have enjoyed. Best of luck going forward for the rest of the year and beyond !