DAVID EGAN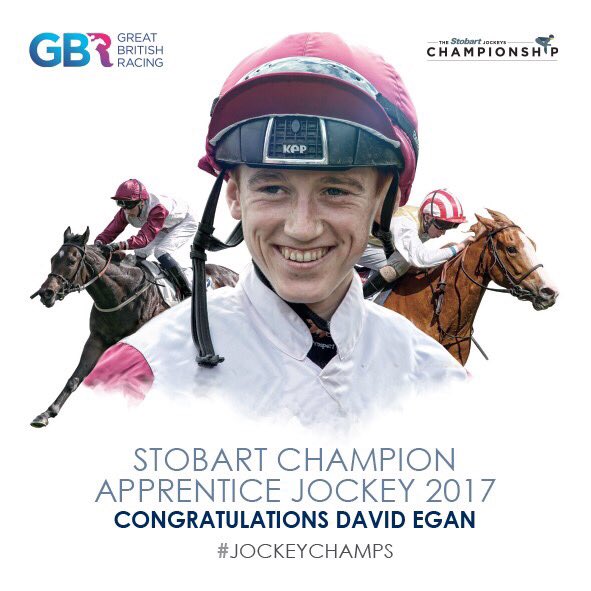 My latest 'RISING STAR' jockey interview sees me speak to a young rider who is more than rising, in that he has just been crowned 2017 Champion Apprentice in England.
David has had a fantastic start to his career and amassed 53 winners during the season to beat his nearest rival Kieran Shoemark by just ONE win.
November 2017
Name:  David Egan
Date of Birth: 19/06/1999
Birthplace: Kildare, Ireland
When did you first ride:
I always rode ponies since I can remember and I did pony racing in Ireland from the age of 13. I rode out for my grandfather Dessie Hughes on the Curragh and later I moved on to the flat horses and worked for Mr (Willie) McCreery during weekends and holidays. I also rode out for my Dad when he set up training for a couple seasons in Friarstown stud. I also rode out for Mr Elsworth when on holidays in England
First ride/winner: July 4th 2016 on ETIENNE GERARD winning apprentice handicap for Nigel Tinkler at Windsor
Best winner/satisfaction: May 13th 2017 TISBUTADREAM winning 1 mile class 2 fillies handicap at Ascot for Mr Elsworth
What would you be doing now if not a jockey:
Definitely something in the Racing industry
Who do you work / ride out for:
I am apprentice to Mr Varian in Newmarket
Describe your average day:
Wake up at 5am, ride out as many lots that I can fit in if I'm racing. Then go racing. If I'm not racing I would go to the gym and the swimming pool, before going back to evening stables
Heroes/idols you look up to or take advice from:
There's lots but only one main person I'd look up to and that would have to be my father John (pictured below with David). He's been successful for so long all over the world and he always has the best advice for me in difficult situations
Strengths/Weaknesses:
Strengths: I've been involved around racing my whole life so I'd like to say I have a decent knowledge of the game. Also being light is a big help. Weaknesses: It's a long road and I still have a lot to learn
Best / Worse part of job:
Best: The feeling of passing the finish line in front!
Worst part: Long hours in the car
Best mates in racing/weighing room:
Thankfully I have a lot of good mates in the weighing room and I'd hate to leave anyone out
What would you change in racing if you could:
Racing has been a successful industry for hundreds of years , so I don't think I'd change anything
Food/Drink:
I enjoy my yoghurt and granola every morning
Sparkling water and I love Milky Bar white chocolate!
Hobbies:
When not racing I enjoy golf, squash and swimming
Ambitions for next few months:
To do as well as I can and hopefully keep improving
Horses to follow:
LANGLAUF and CAPLA TEMPTRESS are two improving fillies + RAKES PROGRESS (below with David after their win at Newbury)
My thanks and congratulations go to David for his time and best of luck to him going forward which will include a winter trip to America