DOUGIE COSTELLO
You can FOLLOW Dougie on TWITTER @DougieCostello
28 November 2016
My latest 'RISING STAR' jockey interview sees me talk to Dougie Costello who is not so much a rising star but a fully fledged star following his career transition from Jumps jockey to the Flat reaching it's peak with fantastic Group 1 success in 2016 thanks to sensational sprinting filly QUIET REFLECTION for the @OntoawinnerNEWS team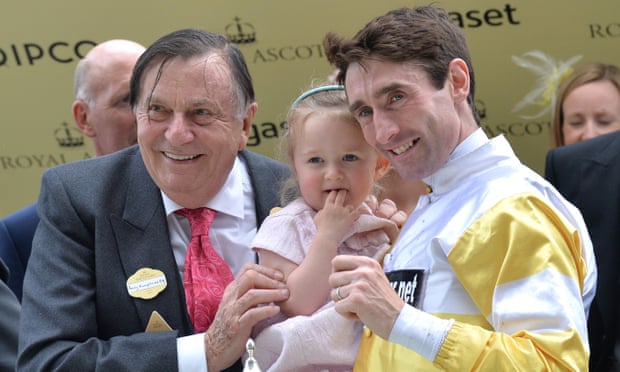 Date and Place of Birth
4th March 1983 in Dublin … but don't tell Any 1 because I'm a Galway man!
Who inspired you to get into racing and when did you first realise you wanted to be a jockey
It's always been a part of the family but my Uncle Jimmy was a big influence on me, he was a hunts master
What age did you first ride
I think the first time I sat on a pony I was 2-3yrs old
When was first actual race ride
As a professional Rosscommon I was 16 yrs old and it was for Gerry Lynch. A filly in a hurdle race can't remember her name but Jason Maguire won on her before he moved to England
I previously rode in pony races at 14-15yrs old
What are your strengths and weaknesses
I'd like to think my pace in a race & strength in saddle & I get on with most owners
Weaknesses? My PR could be a lot better outside of the racecourse & I'm all or nothing. My temper can be hard to handle
Who were your jockey idols you looked up to or maybe based yourself on
Sir McCoy, Ruby Walsh , Richard Dunwoody, Paul Carberry, Timmy Murphy, Richard Johnson, Jamie Osborne , Conor O'Dwyer and when I came to England one of the best jockeys that was underrated Russ Garritty who was a big help to me when i was in my early 20's.
I think as a rider u have to take the best parts of every jockey and use your own style
What & When was your first winner
First winner was YORK RITE at Bangor-on-Dee (1 Aug 2003) for Richard Guest in a 3m boys handicap hurdle
Which would you regard as your biggest win so far
I've been lucky so far with Saturday winners including handicaps, graded & group races they were all big for me. But for the outside public I would have to say Royal Ascot Quiet reflection & for prize money
Which racecourses do you like / dislike and why
Like; whichever one I ride most winners at!
Dislike: the ones I can't ride winners at!
Who gives you your best advice
Best advice; hard work never killed any 1! My grandmother
& patience is a virtue seldom in woman never in a man!!! My grandmother
Favourite horse – that you have ridden and would like to have ridden
Fav to many to mention! I would like to have ridden Kauto Star
How would you sum up the differences you have found in transition from Jumps to Flat jockey
Still working with the same animals (horses) , It trying to figure out rides u ride with who panics and who doesn't!
What time do you get up in the morning most days and what would be your average kind of day
5am drive to the yard
ride out back in the car drive to the track
Go for a 3-4 mile run get in the sweat box (sauna)
Make ur weights, ride, cup of coffee with a chocolate bar, boiled eggs with lots of water drive home
If home early help with putting Aoife (daughter – below) to bed, some white meat for food with a green tea or a beer if light next day back in the bath with a movie then bed 11pm
Which stables do you work for or ride out at the moment
Karl Burke – John Quinn – Mark Walford
Who are your best mates in the weighing room
We are all good friends!
What's the worst part of the job
Someone else winning on something you can't!
What hobbies or sports do you like to watch or play away from racing
Running the dog / exercise
Watch sports; GP (bike racing) , Boxing & Cage fighting
Favourite food and drink
Anything from our local pub Crown & Cushion & the Jolly Farmer at Leavening. Drinks: Stella, white wine, water & (Red Bull only after sweating)
Favourite TV and Film & Music
TV: Game of Thrones
Movies: Bad Boys , 8 seconds & I watched Pele the movie on holidays 👍
Music: 80's-90's & country singer Garth Brooks
Which course would you like to ride a winner at this year (even if you've already ridden a win there)
Dubai-Cheltenham-Leopardstown-Galway and a big one at York!!
Not greedy me!
If you were put in charge of racing for one day what changes would you make
One day:
Racing only with totes like France
People pay less at the gates so more people will come racing because betting is fair with the totes
Children under 16 free So children will fall in love with the animal again and not the betting side (at the moment our next generation will be gamblers with no life's & families but bookies & the government will be the winners)
No racing on Sundays & Mondays
Better racing Tuesdays-Thursdays-Saturdays:
All weather racing five nights a week for low grade horses with 6 race cards £6k per race & price money for 1st, 2nd & 3rd
Best turned out prize money for the two best looking horses 1st place £150 2nd £50 for every race with local sponsorship,
& every local business gets a free pitch for the first year then after that £1000 to £600 depending on pitching areas
Then at Christmas the championship all weather card 6 races with prize money per races £80k pots 1st, 2nd & 3rd
So the grass races will run from February to 30th November with the biggest cards Tuesday, Thursday, Saturday 3 grass meeting on these day with two all weather cards but Wednesday/Friday 2 grass & two all weathers
And a bonus for champions on grass & all weather horses, jockeys, trainers & staff
First five home then bonus for best turned out horses through the yr for staff. Champions back to most winners trained & risen not best prize money. Jockeys Agents only allowed 10 jockeys on their bookies plus 2 from outside the UK that only come here a couple of days a week
🙄
What are your ambitions for the near future
To be a champion jockey whether it be flat , jumps or all weather!
And to ride wins in Dubai/Cheltenham
Can you give readers a horse to follow for the rest of the season
SPEED COMPANY
Thanks so much to Dougie for his fascinating and entertaining interview and giving me his time for you !