CAM HARDIE
For my latest 'PIGEON RACING' jockey interview i speak to Cam Hardie, who after having a fantastic start to his career as an apprentice based with Richard Hannon, has now gone 'back to his roots' based in his native Yorkshire, where the winners have started to flow again including yesterday when winning on HIGHWAY ROBBER at Ayr
Date and Place of Birth
Born in Barnsley 9th May 1996
Who inspired you to get into racing and when did you first realise you wanted to be a jockey
I grew up around horses as my father was a jump jockey and mother always loved her animals and did a lot of travelling around the world working with horses, so i wanted to be a jockey all my life
What age did you first ride / first actual race ride
I first rode a pony before I could walk or talk haha I got my own pony at the age of 2 years old. My first actual race ride was three years ago in April 2013
What are your strengths and weaknesses
I think my strengths are being able to read a race as it plans out and for a lightweight jockey I like to think I'm quite strong in the saddle when it comes to a finis. My weakness is probably my physical strength as I am light – keen horses can be a problem !
Who are your jockey idols you look up to or maybe based yourself on
My idol is my own father who has been there since i started and always helps along the way but like every young jockey we look up to the likes of Ryan Moore and Silvestre de Sousa who are successful worldwide
What was your first winner and where
My first winner was on a horse called FRENCH PRESS at Wolverhampton on 7 October 2013 (PI: with a certain Ryan Moore back in 3rd !)
Which would you regard as your biggest win so far
My biggest race win would be between the big handicap i won on SAFETY CHECK in Dubai or the King Charles Stakes at Newmarket on TUPI in listed company
SAFETY CHECK winning under Cam in Dubai 2015
Which racecourse do you like best
My favourite track has to be York now my home soil and is a very even track
Who gives you your best advice
My dad gives me my best advice
Favourite horse – that you have ridden and would like to have ridden
Favourite horse has to be SAFETY CHECK he did very well for me winning at Ascot and in Dubai and was a gentleman to be around
What is the best horse you have ever ridden
Best horse I have ridden was probably ILLUMINATE on the track breaking her maiden and going on to win the Albany Stakes that year but Safety Check would be up there winning a few group races in the UAE !
What time do you get up in the morning
I wake up between 5.45 and 6.30 every morning depending on where I'm riding out
Which stables do you work for or ride out at the moment
I get in to Mick Easterby, Lawrence Mullaney, Tim Easterby and John Quinn regularly and I managed to pop in to Mark Johnston's one morning the other week but would like to get in a few more places and spread my contacts
Who are your best mates in the weighing room
I have a few close friends in the weighing room but my closest would be Gary Mahon and Ryan Clark as I've known them for a long time now but there are a lot of other lads who are good friends of mine !
What's worst part of the job
The worst part of the job is all the travelling up and down the country, my weight is naturally light so that isn't a problem to me
What hobbies or sports do you like to watch or play away from racing
I enjoy playing a bit of football outside of racing but also have my hunting horses which keep me busy through the winter
Favourite food and drink
My favourite food has to be a classic Sunday dinner and my favourite drink will have to be red bull. I know it isn't great for you but you have to treat yourself now and again !
Favourite TV and film
I don't watch a lot of channels on tv like soaps or anything but enjoy watching a lot of films and my favourite one to date has to be Southpaw a film about a boxer who tragically loses his wife and goes downhill but turns it around for him and his daughter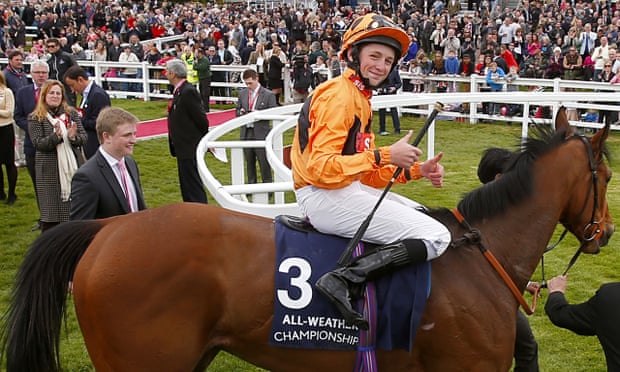 Which course would you like to ride a winner at this year
I'd love to ride a winner at York a big stage on home turf
How do you like and compare the different All-weather surfaces/courses
I think Southwell is the worst surface of them all. The kick back isn't very nice where as it isn't too bad on the other tracks and it can really make a horse back off. The Newcastle track is very even on most days but rides very dead when the heat is on the track and is very hard to be able to pick up off the pace. Wolverhampton as well you have to come off the rail where the best surface is most winners prefer coming down the centre. Lingfield is a lovely surface although the turn in coming down the hill if they kick down the hill can be hard to track down as its only just 2 furlongs turning in. Kempton is a very fair and galloping track which is probably easiest to ride
Have you ridden at the new Newcastle course yet and if so what do you think
Yes I've rode round Newcastle and a few things do need altering take the drainage when the rain is heavy the water just sits on the surface instead of being absorbed and the track rides very dead on the hot days but other than that the first experience I had I found the track very fair and where you were drawn or sat in the race you always had a chance there was no preferences
If you were put in charge of racing for one day what changes would you make
If I was in charge there isn't much I would change apart from probably acknowledging the stable staff a bit more especially on the cold wet days when they have to walk around whilst everyone else is sat undercover but other than that I'm not sure what else I would change seems to be pretty good !
What are your ambitions for the near future
My ambition is to become as successful as I can in this career being able to land a few good winners and a nice job to get me by would be perfect you have to love the game and have a passion for it first though !
Can you give readers a horse to follow for the rest of the season
A horse to follow for the rest of the season is a little filly I've always liked called THE STALKING MOON who finished 2nd in a maiden at Catterick then a close 6th at Glorious Goodwood. She's not big but has a bit of class so I'll be keeping an eye on her from the John Quinn stable
My thanks to Cam for his time and the very best of luck to him for the rest of the season and beyond !