TOM BELLAMY
You can FOLLOW Tom on TWITTER @tommy_bells
22 March 2016
My latest 'PIGEON RACING' interview sees me switch codes to speak with 21yo NH jockey Tom Bellamy. Son of former jockey Robert, who is now clerk of the course at Towcester, Tom has been impressing many for a few seasons now as one of the leading conditional's in the country and only has a handful of winners to ride before he loses his claim
He speaks about his career so far, ambitions for the future and even highlights a horse for the future who runs tomorrow at Warwick…!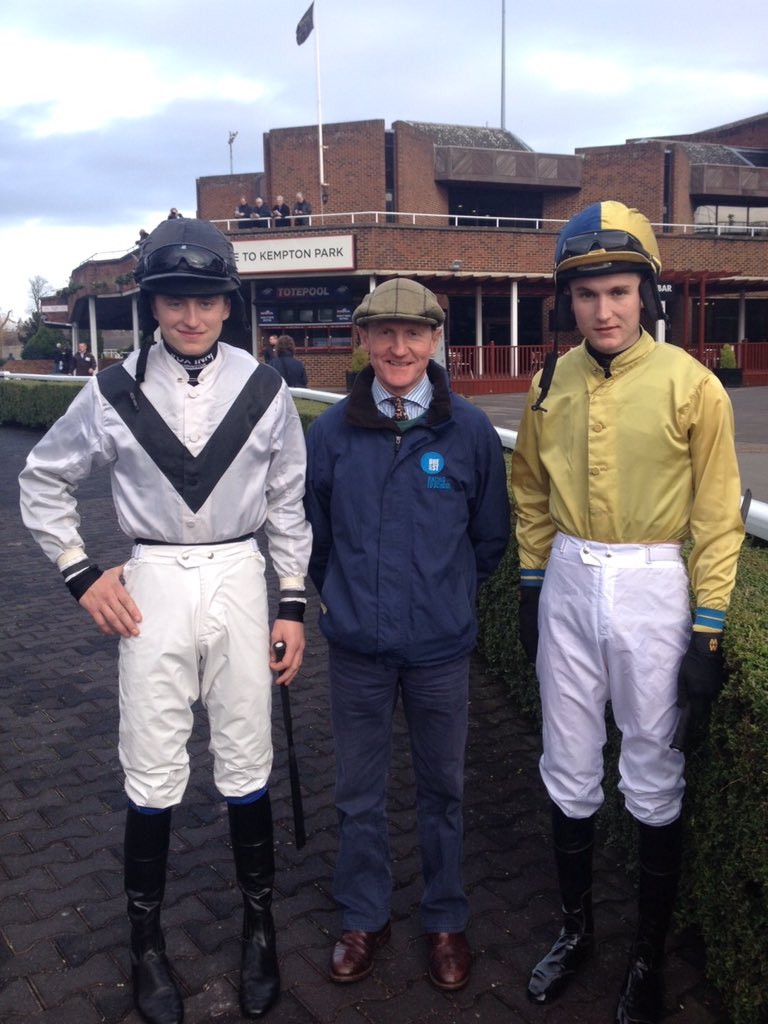 Tom (right) in a recent family pic at Kempton with younger brother Archie (left) and dad Robert (centre)
Date and Place of Birth
22 September 1994 Cheltenham
Who inspired you into racing and when did you first realise you wanted to be a jockey
My family, mum rode point to pointing and dad (Robert) was a professional NH jockey. I have ridden all my life and always wanted to be a jockey from day one
What are your strengths and weaknesses
My strengths are determination and will to learn and my weaknesses are being a bad loser and taking it out on other people
Who are your jockey idols
Wayne Hutchinson as he has been fantastic to me and if I can copy him it will impress the boss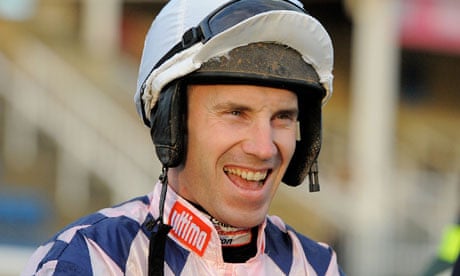 Who gives you your best advice and what if any was the best advice given
I have two best pieces of advice, first was from Johnny Farrelly, saying put your hands on the withers and he will stop pulling. Secondly was again Wayne Hutchinson telling me there's no point crying over spilt milk, on to tomorrow
First ride & first winner
First ride (3rd) Ponchatrain at Ffos Las on 22 Nov 2010. My first winner was on the same horse at Sedgefield on 10 May 2011 for Martin Keighley
Biggest or most satisfying/memorable winner
Best winner was Swing Bill at Cheltenham in Amateurs Handicap Chase in November 2011. My only winner there – feels like it was thirty years ago !
Favourite horse that you've ridden
Ziga Boy. He is a pleasure to ride, very intelligent at his fences and is a potential National horse for next year
Favourite racecourse
Things happen slowly at Exeter which I like
Least favourite racecourse
Taunton – I broke my leg there and just can't ride a winner there !
What time do you get up in the morning
I get up at 5.20am
What's worst part of the job
Sweating and not eating
What hobbies or sports do you like away from racing
I love playing cricket in the summer and a pint with the lads.
Food and Drink I love a good Sunday roast with a pint of lager
TV and Film Favourite TV is Only Fools and Horses, film is Legend
Music
Music is anything, from ABBA to Eminem !!
Which course would you like to ride a winner at this year
Cheltenham. We've only got April left but I don't care what meeting it is I just love the place so much. Either there or Taunton just so I can prove the place isn't unlucky for me
What are your ambitions for 2016
To ride as many winners as possible and climb the ladder some more. I've never jumped over the national fences yet but would love to !
Finally, can you give readers a horse to follow for 2016
Horse to follow is Clondaw Fonz trained by Alan King (declared Wednesday 2:10 Warwick)
Big Thanks to Tom for his time and help. Good luck for that elusive next Cheltenham winner as well as success at Aintree when you get your chance over the big fences !