JASON WATSON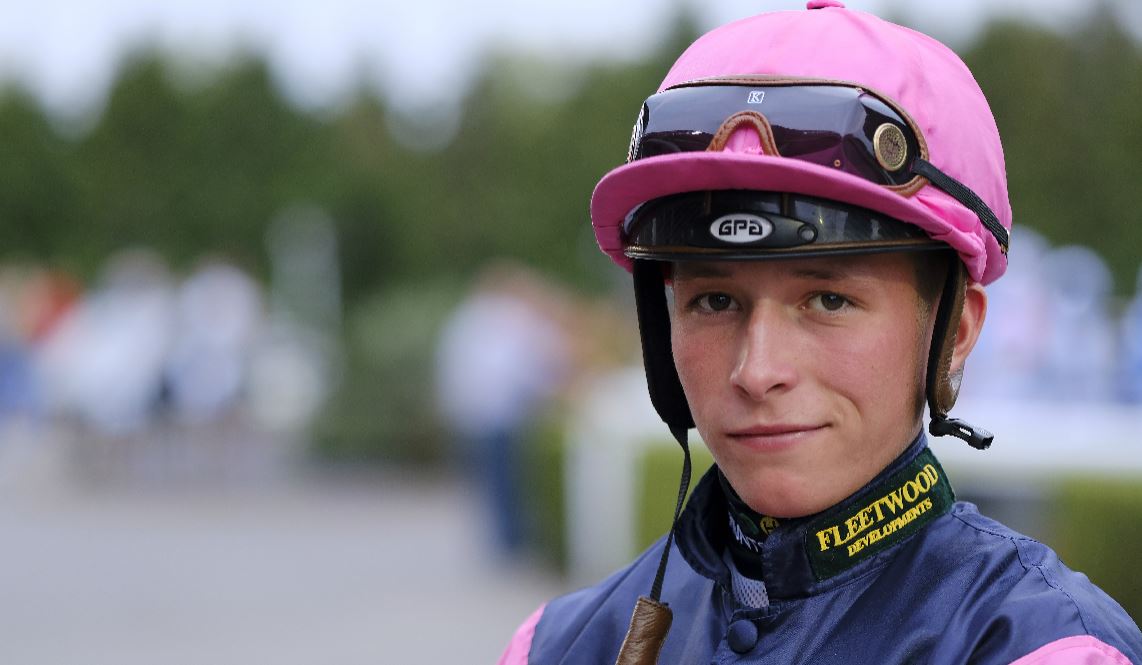 The latest in my series of 'RISING STAR' jockey interviews sees me talk to promising youngster Jason Watson who is still in his first year of riding on the Flat. He is based at the home of future star jockeys, Andrew Balding at Kingsclere and has enjoyed seven winners so far this season. These include most recently winners on consecutive days at Lingfield aboard MISS MINUTY and GEORGE DRYDEN
Name: Jason Watson
Date of Birth: 12/05/2000
Birthplace: Brighton
How many winners so far I have had 9 winners altogether, I had 2 last year and 7 so far this year. I think it's something like 7 out of 22 rides in 2018
Who inspired you to get into racing and when did you first realise you wanted to be a jockey Ray Goldstein (ex jump jockey, father of Mark and Jamie Goldstein) inspired me. My parents used to ride at "Hamsey Racing School".
What age did you first ride When I was 6 years old my parents asked me if I wanted to go down for a riding lesson. So I did and after my first lesson Ray said to my parents "he's a natural, he should be a jockey! If he doesn't win his first race at Brighton by the time he's 18 I'll eat my hat!
When was first actual race ride I had my first ride on the 22nd March 2017 on a horse called BREAKHEART; a veteran of the yard. It was an evening meeting at Kempton over 7f, I finished 2nd
What are your strengths and weaknesses My weakness is that I need to become more confident with speaking to owners, trainers and the media. I still have a lot to learn about race riding and tactics as well, and hopefully when more experienced I will improve. Not too sure about strengths… I've been told I'm quite a strong rider. But I never like to say too much about what I'm good at in case other people might not think I am. John Reid is my jockey coach you can ask him, he's always watching me ride
Who were your jockey idols you looked up to or maybe based yourself on Ryan Moore is I think the obvious jockey everyone wants to be like. He's a strong rider, he gets to ride all these top horses, for trainers that jockeys spend their careers trying to ride for or be retained by. I also think William Buick is one of the most stylish and tidiest jockey around at the moment. He also has one of the best if not the best job (retainer) in racing. He always looks smart as well and is very strict with his diet and exercise routine. Oisín Murphy is also an excellent rider. To me though what makes him stand out is that he is a very clever man and knows how to speak to owners, trainers. He knows how to keep in their good books! Oisín helps me out a lot too, he gives me great advice and teaches me a lot of things about form and what's ideal for horses. He is a great ambassador. He obviously also started out here at Park House
What & When was your first winner My first winner was for Gary Moore (who I used to work for before I came to Park House) on a horse called MANY DREAMS at Salisbury on 18th May 2017. I just got up on the line (I was up against Rossa Ryan in a finish). It was my 4th ride
Which would you regard as your biggest win (s) I think my biggest winner was GEORGE DRYDEN at Lingfield the other day for Charlie Wallis as it was a Class 4 race and I had only ever won class 5 and class 6 races until then. He did it nicely too, Mr Wallis has the horse in a good place at the moment. But it was a relief to ride my first winner for my boss; also at Lingfield. The horse is called LADY PERIGNON, and is owned by Mrs Fitri Hay, obviously extremely well known owners! She had never won on all-weather until that day. It was quite a special winner for me
Favourite horse – that you have ridden and would like to have ridden My Favourite horse is COUNT OCTAVE, owned by Qatar Racing. He's a gentleman and floats up the gallop, he never feels empty. I would have love to have ridden him when he ran at Royal Ascot in the Queen's Vase (Group 2). I had been riding him out for months before he ran there. I said he will win! Unfortunately he was just beat a neck by Stradivarius of John Gosden's that day. I also love MISS MINUTY, trained by Jeremy Scott and owned by a lovely lady Miss Jennifer Dorey. She's one of the gamest fillies I have ever sat on! She really does wear her heart on her sleeve. She's an old girl but I think if you have a horse as genuine as her, they'll beat any of the youngsters. I can't explain how much I owe this horse as she really has helped get me into the limelight
What is the best horse you have ever ridden The best horse I have sat on is DURETTO also trained by Andrew Balding. He's rated 112 and is an improving horse. He won the Group 3 Worthington's Stakes at Newbury. Then went on to finish 3rd at Chester in the Diamond Ormonde Stakes (Group 3) behind Us Army Ranger and Western Hymn. He also won a listed first time out for us last year, then ran a good race in the Long Distance Cup during the Ascot Champions Day festival.
Which racecourses do you like / dislike and why I like riding Kempton, because I think it gives horses a chance if you don't get the start you want. I know this might seem ironic just because it's my home town, but I also like riding round Brighton. It's an unusual track, but a good track to learn on. It's very undulating, you have to keep switching rails and it can tell you a lot about a horse and how tough they are. Because it's hard working up that hill just before the finish line. I'm not too fond of Southwell as if you're out the back the kickback is bad and it's difficult to make up ground
Who gives you your best advice I've had many people giving me good advice along the way so I will name a few. Andrew Balding (my boss) has obviously brought a lot of apprentices through. Andrew is a very clever man and I trust him, and his advice. Also John Reid who was an amazing jockey of his time. He is all about modernising and keeping up with the times, which I think is important. Obviously with his experience, you've got to take on board his advice
What time do you get up in the morning most days and what would be your average kind of day I normally get up and run at 5:45 for 30 to 45 minutes, before starting work at 7:00. I ride out 5 lots and finish work at 12:30. Then in the afternoon I will watch the races, have a look at what horses I'm on and the sort of race they are running in. We start evening stables at 4:00. I muck out 5 or 6 horses and do them up (some days Mr Balding will come round and we have too show our horses to him). Finish evening stables at 6:00, and from then on just relax, watch some TV and sometimes I might go to the gym. It my days have changed a bit since I have been racing more. I now spend more afternoons at the races and don't end up being back in time for evening stables.
Which stables do you work for or ride out at the moment I work for Mr Andrew Balding (below) at Park House Stables
Who are your best mates in the weighing room It's difficult to tell how many mates I have in the weighing room at the moment, as I haven't really been riding that long. And when you're not riding winners the lads don't notice you so much. But I would say I get on well with Oisín Murphy (below), Eddy Greatrex and Joshua Bryan. They all help me out and are a good laugh in the weighing room. I am good mates with Will Carver who is fairly new to the weighing room. I knew him way before I was even at Andrew's. We went on some Pony Racing courses together (not that i ever got round to do pony racing)
What's the worst part of the job The worst part of the job is trying to trust yourself that your doing the right thing. Whether that's tactics for a race, or having to pick from two horses entered in the same race. Trying to figure out which one has the best chance.
What hobbies or sports do you like to watch or play away from racing I like to go fishing, watching golf, playing squash & swimming
Favourite food and drink I love my Mum's homemade spaghetti bolognaise made with veggie mince, its always been my favourite. I like Starbucks caramel Frappuccino even though it's probably not the healthiest drink, but you have to spoil yourself sometimes!
Favourite TV and Film & Music I thought Peaky Blinders was a fantastic series! So I would say I quite like watching dramas. My favourite film is Legends (about the Kray twins). It stars Tom Hardy who also played a character in Peaky Blinders. I think he's a class actor! I listen to a wide variety of music. Currently I suppose Bruno Mars, Khalid, Scouting for Girls & Oasis are my favourites.
Which course would you like to ride a winner at this year Ascot! Royal Ascot preferably!
What differences if any do you find when riding on different extremes of going conditions between summer and the winter game apart from obviously the weather I find the quality of racing is higher on the turf during the summer. Plus you also have to compete with the jockeys that have been away during the winter, the likes of Will Buick and Ryan Moore… The all weather tracks are normally just a oval shape or a straight line, and they're also flat. But with the turf racing you have to be more adaptable to changing conditions. For example the undulations of the turf courses and the difference in going can cause you to change your plans for a race.
If you were put in charge of racing for one day what changes would you make I'm not sure what I would change if I was in charge of racing for a day. I'm sure there's things that can be altered, but there is nothing I think that drastically needs to change.
What are your ambitions for 2018 To ride as many winners as I can, but also thinking about trying to save my claim. It would be nice to ride a big winner this season at a big meeting. But generally just to keep improving myself and keep progressing forward.
Can you give readers a horse to follow for the rest of the season It's difficult to tell what horse I would like to follow this season as we are still getting in horses that have been on breaks over the winter, and we are taking it easy at the moment with a lot of our horses. But if I had to pick it would be Count Octave. I know he is my favourite ride and people might think it biased. But he's come back looking big and strong! He's had a nice long break, he hasn't lost that big galloping stride he had last year either. He's much more of a horse to work with this season compared to last year! And look how well he ran last season.
Many thanks to Jason for his time. By far the longest interview i've ever done with his excellent in-depth and detailed responses. If he rides as well as he talks he will be in for a great season !