PADDY PILLEY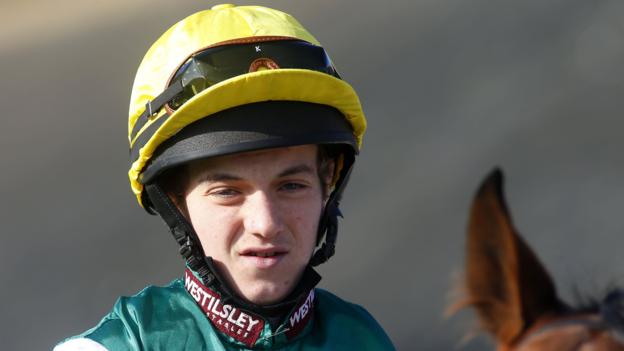 Paddy Pilley today got the surprise call to ride Diore Lia in Saturday's Investec Derby at Epsom. There has been much said about the horse's participation in the race but with one day to go Paddy can look forward to riding in the greatest Flat race in the world !
I managed to grab a few words with the little known rider tonight to give you some knowledge of the 19yo who recently tasted success twice in May for Notts trainer Scott Dixon
When did you hear about the opportunity to ride in The Derby and what was your immediate thought?
I got the call this morning (Thursday) and am very excited
RP: "I heard about it this morning. The owner rang me. I told my agent and spoke to Mr Charlton, and he was happy for me to take the ride
You must be excited ahead of Saturday ? 
I wasn't expecting to get the ride but I'm delighted to be riding in a big race like the Derby.
I'm 19yrs old born in south Oxfordshire
Who inspired you to get into racing and when did you first realise you wanted to be a jockey
My uncle used to do point to pointing, and when I was 11yrs old
What age did you first ride / first actual race ride
I had a few pony race winners when I was 14 and 15 and then had my first ride when I was 16 and a winner on my 2nd ride under rules for Mick Channon
What are your strengths and weaknesses
I'm normally quite good at getting a horse in the right place in a race and judging the pace, i'm always trying to improve everything you never stop learning!
Who are your jockey idols you look up to or maybe based yourself on ?
I think Frankie Dettori is a different gear
How many winners so far approximately
I've had 39 winners
Which would you regard as your best results
I've had a 4th in a listed race in Oz and a 70-1 winner, which both were great buzzes (Australian success below)
F
avourite horse – that you have ridden and would like to have ridden 
Frankel the best horse I've seen in my era
What time do you get up in the morning most days and what would be your average kind of day ?
I get up about 6.30 on a normal day. I would ride out until 12 and then kick on racing there's a lot of driving involved most days!
Which stables do you work for or ride out at the moment
I work for Roger Charlton (below)
What's the worst part of the job
Worst part of job is the traveling and driving
I like a homemade pizza!
Favourite TV and film Music
Ali G off the top of my head! Or Zulu. Any music apart from classical
Which course would you like to ride a winner at this year (even if you've already ridden a win there)
I have a good strike rate at Brighton (below) normally but it would have to be Ascot
How do you like and compare the different All-weather surfaces/courses
I think every all weather in this county rides very different to each other, Kempton my favourite
If you were put in charge of racing for one day what changes would you make ?
Put the weights up!!
What are your ambitions for the near future
To ride out my 5lb claim I only have about 10 winners to go
Many Thanks at short notice to Paddy, and good luck on Saturday !
Who is Paddy Pilley?
(from Racing Post):
Paddy Pilley competed in pony races and was 12 when he started riding out for Martin Bosley in Buckinghamshire. The trainer was impressed enough to help Pilley join Mick Channon's yard three years later
After two wins from 40 rides in 2014, the apprentice flourished at West Ilsley, recording 25 successes the following year, including three on the Giles Bravery-trained Subtle Knife
Down to claiming 5lb, Pilley managed only five wins in Britain last year and after a spell with Geoffrey Deacon decided to try his luck in Australia, joining trainer Nigel Blackiston at Flemington in Melbourne
The recommendation came from weighing-room colleague Oisin Murphy and it proved a fruitful one. Pilley, who is not from a racing background, partnered five winners from 60 rides during his three-month stint in Victoria
Pilley considered staying but saw Roger Charlton was advertising for an apprentice and got the job
The young rider, who has 12 winners left of his 5lb claim, is waiting to ride a winner for his new boss but has already struck twice for trainer Scott Dixon
He said recently: "I'm sitting on good horses every morning at Mr Charlton's and I'm learning plenty. My agent is working hard for me and we're trying to get the ball rolling. The main target is to establish myself again in Britain."